Nestled in the pine forests of North Baldwin County, Bay Minette is conveniently located 35 miles northeast of Mobile, Alabama, 45 miles west of Pensacola, Florida, and 75 miles east of Biloxi, Mississippi. Because of our favorable location, we enjoy the economic, social and cultural benefits of the surrounding urban areas while maintaining the charm and relaxed pace of a small southern community.
In addition to being home to a thriving timber industry, our surrounding forests serve as a playground for the southern sportsman, as does the nearby Tensaw River Delta and the waters of the Gulf of Mexico. Bay Minette is also surrounded by restored Civil War and early American history sites perfect for history buffs, family picnics, hikers and campers.
Bay Minette has enjoyed steady, managed growth for many years. As the seat of Baldwin County (the second fastest growing county in the state), our residents enjoy many employment opportunities through local government, the county board of education, as well as legal and other professional offices, which support the county government.
Home to the largest employer in Baldwin County, Bay Minette also offers residents employment opportunities in manufacturing and industry. In addition, the city actively seeks new employers through partnerships with the Baldwin County Economic Development Alliance and the North Baldwin Chamber of Commerce.
There are approximately 8,500 residents living in the city limits of Bay Minette and an additional 20,000 beyond the city limits who call North Baldwin home.
We hope you will enjoy Bay Minette as much as we enjoy living here. We invite you to personally visit our city. While here, we hope you will stop by our City Hall, located in Downtown Bay Minette, if you find yourself in need of any information or assistance.
Click here to link to our Facebook page and keep up to date on all that is going on here in Bay Minette.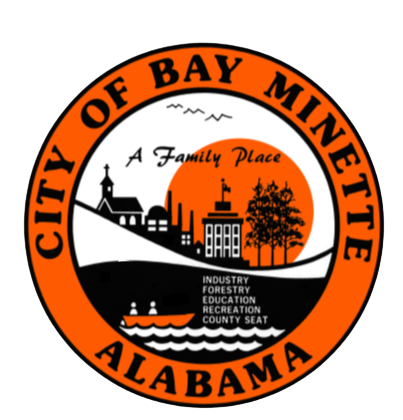 A great place to live, work, & play!