Mission Statement
The principle mission of the Bay Minette Police Department is the protection of life and property, the prevention and detection of crime, the apprehension of offenders, and the preservation of peace and order.
In order to achieve our mission, members of the Bay Minette Police Department must maintain the confidence and respect of the public. This is achieved by receiving the highest quality of training available in law enforcement today and through constant and earnest efforts of all departmental employees to perform their duties in an efficient, honest, and professional manner by exemplary conduct in all their endeavors.
Al Tolbert, Chief of Police
---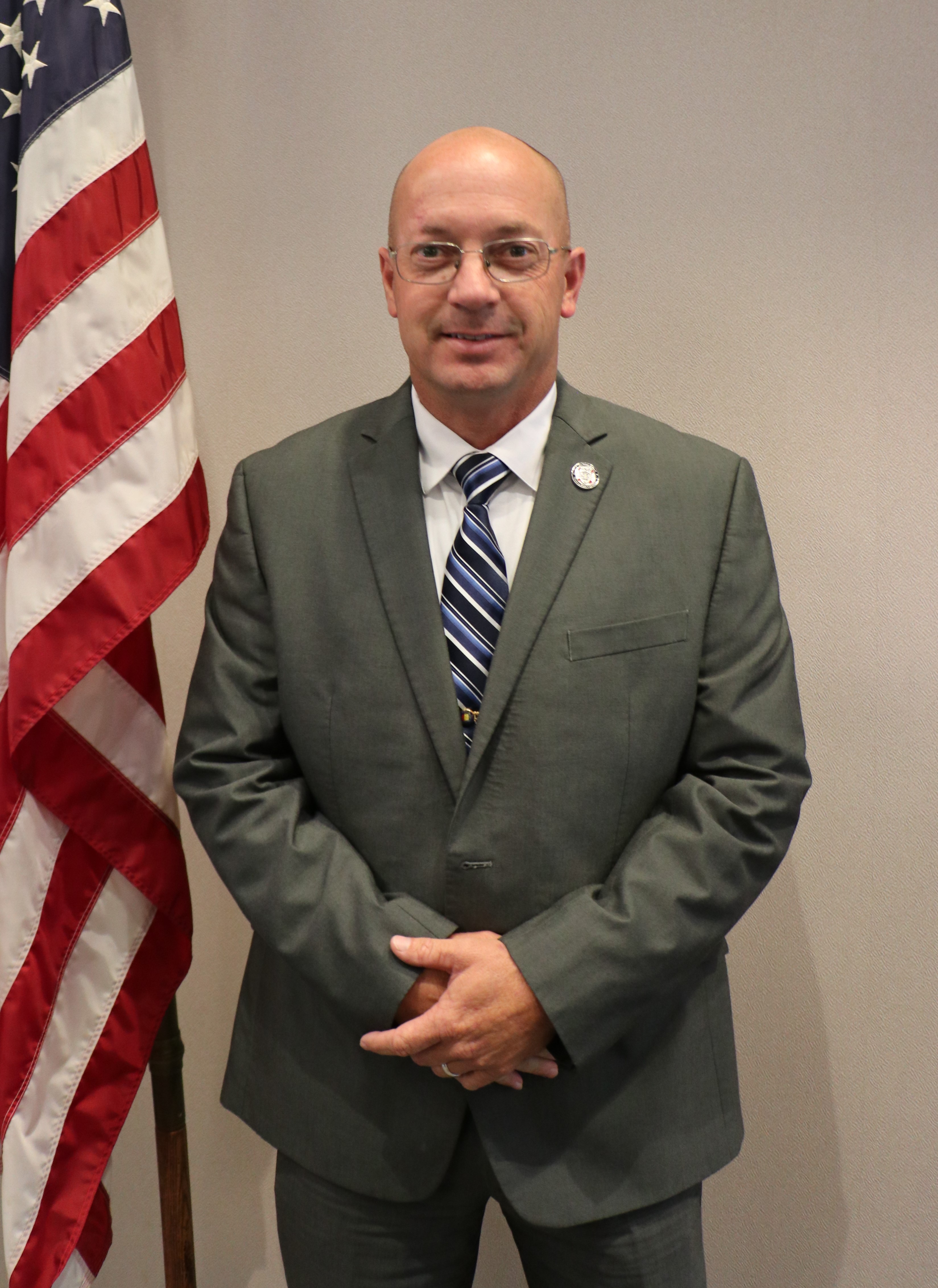 The Bay Minette City Council voted unanimously in October 2017 to hire Al W. Tolbert, Jr. as the Police Chief. It was a full-circle moment for Tolbert, who began his career in law enforcement with the Bay Minette Police Department.
Chief Tolbert began his law enforcement career in 2000 as a patrol officer with the Bay Minette Police Department. Just three years later he became the department's K-9 handler and was promoted to the rank of Sergeant and worked as a Patrol Supervisor until 2007.
He then joined the Baldwin County Sheriff's Department where he worked in numerous capacities including K-9 Handler, Drug Investigations, Special Operations Unit/Drug Interdiction, and as a member of the Mobile/Baldwin County Multi Jurisdiction Interstate Drug Task Force, Baldwin County Drug Task Force, and Patrol Division. Tolbert was also member of the Baldwin County Sheriff's Mounted Posse Unit during his employment with the Sheriff's Office.
Chief Tolbert has served the community in numerous ways throughout the years. He has served as member of the Pine Grove Volunteer Fire Department, including a stint as Volunteer Fire Chief. He has also served on the Baldwin County E911 Communication Board and the Baldwin County Fire Chief's Association. He now serves as Chairman of the Carol Hodgson Municipal Arena Advisory Board of Directors.
Chief Tolbert is currently in his second term as Chairman for the Baldwin County E-911 Board of Directors and also serves as Chairman of the Baldwin County Major Crimes Unit Board of Directors. He is a current member of the Baldwin County Court Services Board of Directors and the Alabama Law Enforcement Agency Region 6 Drug Task Force Board of Directors. Through serving on these boards Chief Tolbert has the opportunity to work alongside other chiefs of police, sheriffs, county commissioners, municipal elected officials, citizens, paid and volunteer firemen, emergency medical professionals and communication directors. This has allowed for partnering with other first responder organizations to better serve our citizens with law enforcement services, 911 services, fire services and emergency medical services.
Since Chief Tolbert's appointment as Police Chief in 2017, he has addressed numerous operational components of the Bay Minette Police Department. This plan addressed partnering, training, performance monitoring, case assignment, staffing, equipment upgrades, technology upgrades, and crime prevention. The goal was to provide a professional law enforcement service to the community and a feeling of safety and security for all citizens.
Chief Tolbert said providing officers with the skills, training, equipment and technology upgrades allow the department to be confident and accurate in their performance as law enforcement officers. The Department has also taken on community outreach programs and partnered with other law enforcement agencies to share intelligence gathering, track criminal activity and monitor current trends associated with criminal activity.
Under this leadership, the Department has also partnered with community groups and associations by taking part in local and county-wide events, club meetings and public outings. This enables the officers to have a visible presence but most importantly making them available to the citizens. Community engagement creates lasting and long-term relationships that builds trust between law enforcement and the citizens we serve.


About our Police Department
---
The City of Bay Minette, with its 8,000 residents, is served by a full service police department consisting of 26 police officers, one animal control officer and nine support personnel to carry out the day to day operations of the department.
It is the fundamental duty of the police department to serve the community, to protect those in need, and to vigorously pursue those who commit crimes. Our employees carry out their sworn duties with honor, integrity, and love for the heritage of our community.
The Bay Minette Police Department's fleet of cars bear a familiar color scheme as the city works to streamline the look of its police force.
When selecting a design, several ideas were submitted and the council chose one that included a black car with orange stripes and lettering, which matches the city seal and corresponds with the colors of Baldwin County High School.
Units and Programs
---
Patrol Division
The Patrol Division is the backbone of the police department and is responsible for the initial response to calls for service throughout the community. Officers assigned to the Patrol Division work 12 hour shifts.
The Division consist of 4 Shift Sergeants. Each Shift Sergeant supervises a Corporal and several Police Officers.

Investigative Division
The Investigative Division consists of the Captain of Investigations and 2 investigators.
These officers are responsible for conducting investigations of major crimes within the City and to work cooperatively with other outside agencies to resolve crimes and criminal activity that directly affect residents and other stakeholders in the City of Bay Minette.
Animal Control Officer, Ashlynn Hale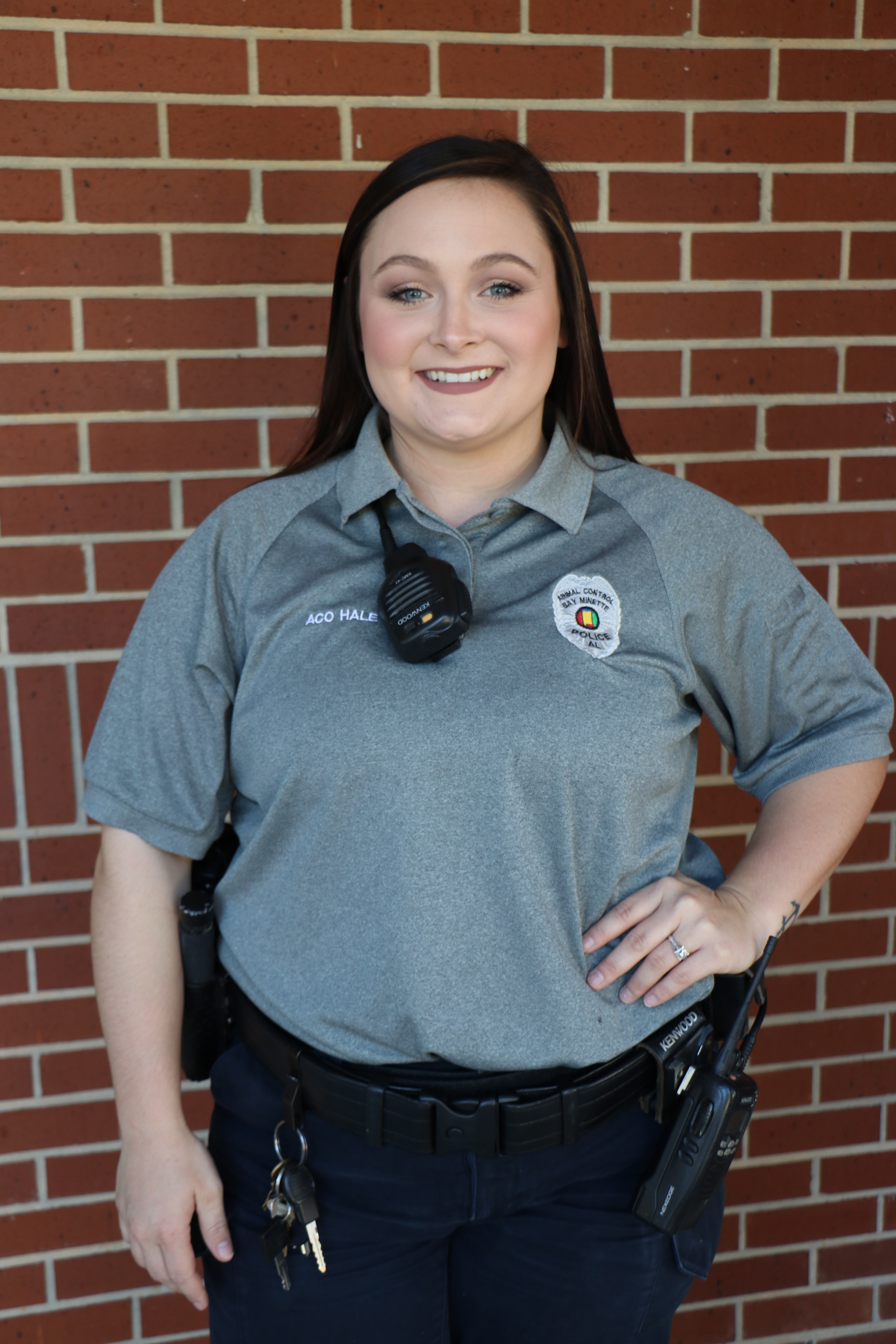 ashlynn.hale@cityofbayminetteal.gov
251.580.2559
The Animal Control Officer (ACO) has primary responsibility to investigate allegations of animal abuse, cruelty to animals, and animal nuisance within the City of Bay Minette.
The ACO also works with outside public service agencies and private partnerships to insure that complaints of animal abuse, cruelty, or animal nuisances are fully investigated and handled with care and compassion for the animals consistent with the goal of public safety.


Communications and Records
The Communications and Records Division is supervised by a Communications/Records Supervisor who oversees the daily operations of the department's dispatching and records keeping functions. The division is comprised of a supervisor, 6 radio dispatchers, and 1 records clerk.
Bay Minette PD's Communications and Records Division uses the most advanced equipment available to law enforcement today. The radio system utilizes a digital format with multi-agency interoperability and computer-aided dispatch functions. All communications into and out of the dispatch room are recorded on digital voice recorders that are easily stored and retrievable on a secure hard drive.
The records keeping function is supported by a computer-based records management system that is state-of-the-art and is accessible from anywhere in the world by internet. Police officers and other employees entering information into the records database can do so by laptop computer utilizing either a hardwired internet connection or wireless internet. This allows the police department to reduce paperwork and cut overall costs associated with storing documents and performing data processing functions. In addition, the system makes all reports and other information that is entered into the records management system immediately accessible, which is especially important for use in real-time crime analysis.
Police Chaplain Corps
The Police Chaplain Corps is a multidenominational organization which integrates the services of all the churches within the City of Bay Minette. The purpose of the Chaplain Corps is to provide faith-based services to victims of crime, domestic violence, abuse, or other issues affecting the quality of life of our citizens. Our Chaplains serve as volunteers on an on-call basis and have provided a variety of services to families and victims of crime such as counseling services, sheltering, and food for homeless persons, in addition to other community needs.
The Police Chaplain Corps is coordinated by a full-time paid Police Chaplain, who is also a police officer certified by the Alabama Peace Officer Standards and Training Commission and the International Police Chaplains Association.

School Resource Officers
Bay Minette Police Department has four School Resource Officers stationed on school campuses. Funded by the Baldwin County Board of Education, the SRO program is a partnership between the school system, local municipalities and the Baldwin County Commission. Prior to this partnership, the City of Bay Minette self-funded one School Resource Officer.
Police Chief Al Tolbert said the School Resource Officers are sworn police officers and so much more. They also serve as problem solvers, youth advocates, school and community liaisons, mentors, counselors, classroom instructors and positive role models. Along with the benefit of police presence being readily available when needed, these Resource Officers will help the Police Department by eliminating the necessity of calling an officer off the road and into the school should an issue occur.
In 2022, the School Resource Officer (SRO) Unit was recognized as Best in the State with the 2022 SRO Team Award, presented by the Alabama Association of School Resource Officer. The SRO team was surprised with the award presentation during the group's annual conference held at the Orange Beach Conference Center. School Resource Officers from across the state took part in the conference and several local school officials and family members were also on hand to surprise the team during the award presentation.
In recent years, the SRO team has developed the Hourglass project which coordinates special summer activities with selected students including fishing and hunting trips as well as educational opportunities such as college tours. The team also sets up informational booths at community events throughout the year and continually takes part in training courses to learn how to better serve our schools and community. The SRO team also spearheads the annual Shop with a Cop project at Christmas which provides a holiday shopping experience with local youth. Just last week, our School Resource Officers conduct a dunking booth fundraiser which raises funds for the Baldwin County Special Olympics.
The SRO Unit was also recognized at the Baldwin County Board of Education regular meeting for its community outreach programs, Hour Glass Program, Shopping With a Cop program, their involvement in the Baldwin County Special Olympics, and Baldwin Chapter of the Alabama Law Enforcement Torch Run.
Employment
Visit our Human Resources Department page to inquire about any openings or to complete an on-line application.
Applicants for entry level Police Officer positions must be at least 21 years old and hold a high school diploma or GED from an accredited school. Applicants must pass a background check, oral interview, a physical ability/agility test, and a written exam. Successful candidates must also pass a psychological exam, polygraph, and general physical examination. If hired, candidates must also pass a 12 week police academy and successfully complete a 12 week field training program.
Applicants for lateral entry positions must pass a background check and oral interview.
Applicants for all other positions must hold a high school diploma or GED from an accredited school and pass a written exam and oral interview.
The City of Bay Minette is an equal opportunity employer.


Prescription Medication Disposal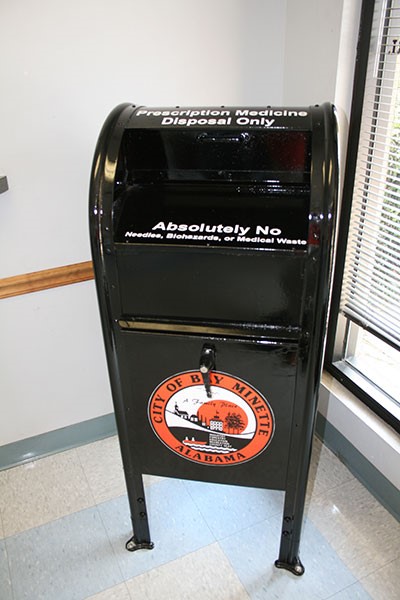 The Bay Minette Police Department is now offering a permanent option for people to dispose of outdated or unwanted prescription medications. A drop box has been set up in the lobby of the police station on North Hoyle Avenue and provides a "no questions asked" approach.
Unwanted, unused or outdated prescription medications can be left in the drop box and the Police Department will take care of the proper disposal. Liquid medications should not be left in the drop box but all other prescription drugs can be safety discard there.
The drop box is an old mailbox that was refurbished by the Bay Minette Public Works Department.
The City participates in the annual National Prescription Take Back Day, sponsored locally by the Baldwin County Community Alliance. This permanent drop box helps to expand on that service.
For more information about this program, click on a story link here or call the Bay Minette Police Department at 251.580.2559.
Police Department Patches
---
The Bay Minette Police Department does not distribute patches, logos, or other agency identifiers without a written request from a certified law enforcement officer or employee on official departmental letterhead signed by the agency Director.